Belinda and I recently worked on a fashion shoot for a children's magazine based in Hong Kong. The theme was Oriental and living in Hong Kong is truly a stylist's playground. We sourced most of the props for the food shots from Shanghai Street in Prince Edward. Our two favourite shops for all party products are Woodwork Professor, G/F 335-339, Shanghai St, Tel: +852 2332 2443, www.woodwork-professor.com and I Love Cake, G/F 338, Shanghai St, Tel: +852 2671 2671, www.ilovecake.hk.
The clothes were sourced from a great French brand: La Petite Caravane www.lapetitecaravane.com. Thy-Tien Crampton is now based in Hong Kong and is a young French designer who has a lovely eye when it comes to prints and design. Her children's clothes are well constructed and only run in a very limited edition as fabric is often vintage and sourced from around the globe. With Belinda's past experience in food styling she was able to create some delicious recipes. I have posted them here for you.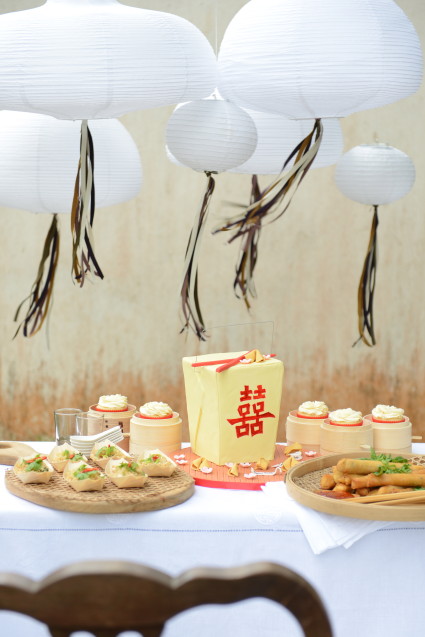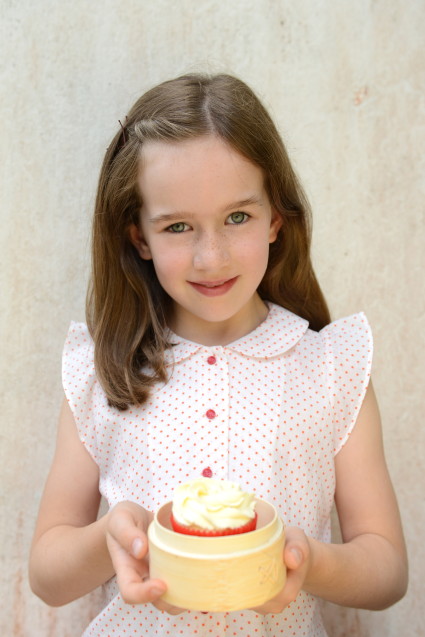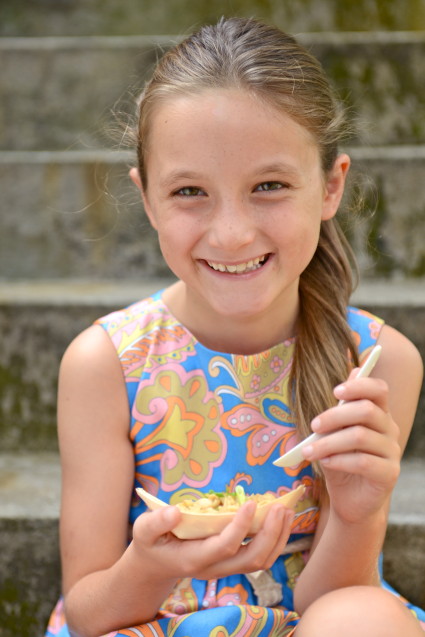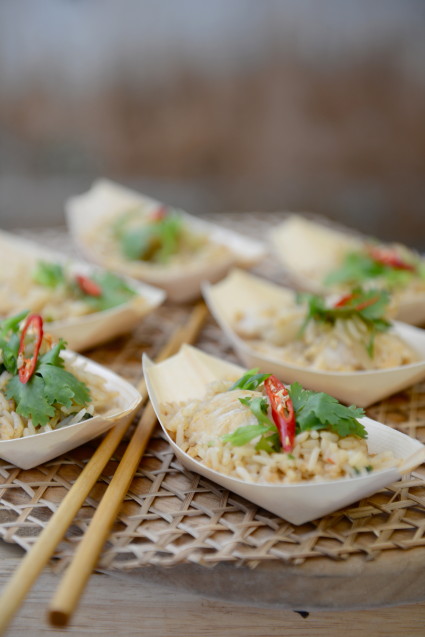 Chicken Fried Rice
Ingredients
2 Tbsp light soy sauce
2 Tbsp sweet chilli sauce
2 Tbsp Oyster sauce
2 Tbsp coconut oil
600 g chicken breast, thinly sliced
1 brown onion, cut into think wedges
1 clove garlic, crushed
1 red chilli, finely chopped
1 small knob of ginger finely chopped
2 eggs, lightly beaten
3 cups cooked rice
1 cup fresh coriander, chopped
4 shallots sliced diagnoally
1 small can of water chestnuts drained and sliced
Method
Combine soy sauce, sweet chilli sauce and oyster sauce in a small bowl.
In a small wok, heat three teaspoons of oil at medium heat.
Add half the chicken and stir-fry for 2 minutes or until browned. Transfer to a plate. Repeat with another teaspoon of oil and
remaining chicken.
Add remaining oil and brown onion to wok and stir-fry for 2 minutes until golden. Add garlic, chilli and ginger and stir-fry for 30 seconds.
Add egg and rice, stir-fry for a few minutes more, or until egg is well combined with rice.
Return chicken to work. Add soy sauce mixture, coriander, green onions and water chestnuts. Stir-fry for 2 minutes until well combined.
Spoon into bowls to serve.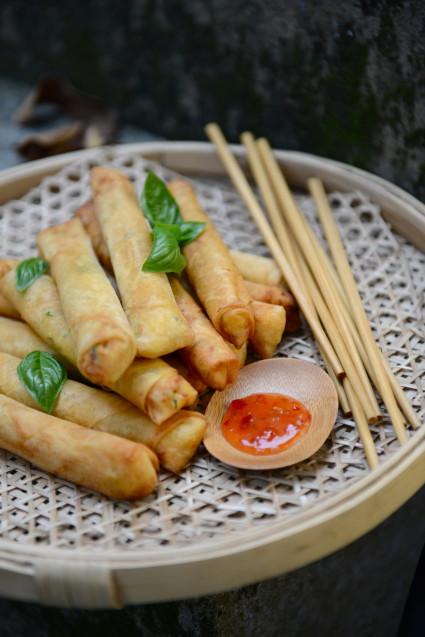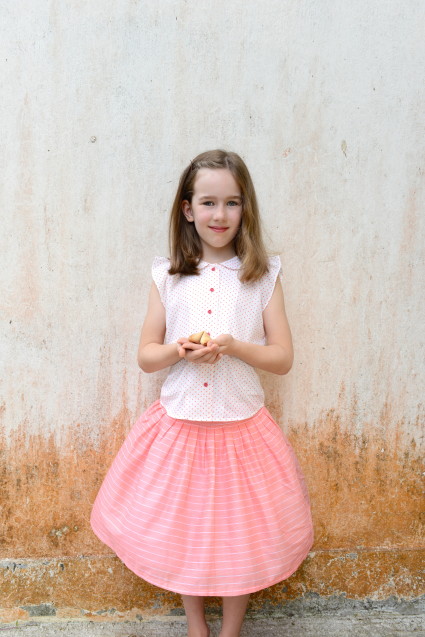 Vegetarian Spring Rolls
Ingredients
Canola oil for frying
2 cloves of garlic, grated
1 cup of bean sprouts
1 small bunch of coriander, chopped
3 shallots (green onions) chopped
1 medium carrot, julienned
300g, fresh water chestnuts, washed, peeled and chopped
1 cup rice vermicelli noodles, soaked in hot water until soft and then drained
1 packet of square spring roll wrappers
Method
Heat a little canola oil in a wok and stir-fry garlic, bean sprouts, coriander and shallots for three minutes until soft. Remove from heat.
Mix in carrot, water, chestnuts and noodles. Combine well, then pour mixture into a sieve and drain for 1 hour.
Lay spring roll wrappers out on a flat work surface. Place a small amount of mixture in the middle of each wrapper and roll up. Continue until mixture is used up.
Fill wok half-way with canola oil and heat until it's hot enough for deep frying. Place rolls in one at a time and deep-fry until golden on all sides. Cook in batches until all rolls are fried.
Place rolls on paper towels to soak up excess oil.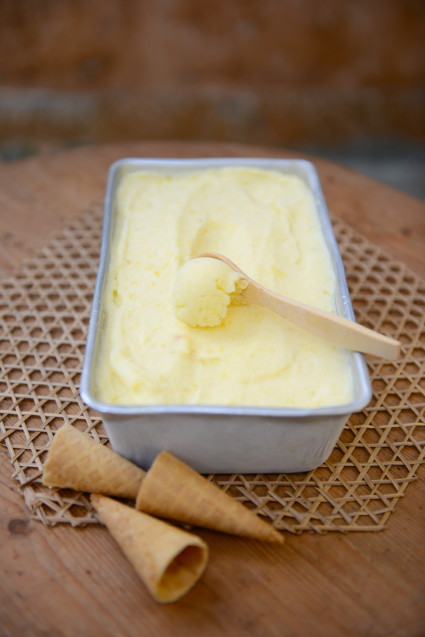 <
Pineapple and Lychee Sorbet
Ingredients
800g fresh pineapple, chopped
565g lychees in syrup
Method
Spread the pineapple over a tray and place in a freezer overnight.
In a food processor, combine the frozen pineapple and tin of lychees (including the syrup). Blend until it looks like snow. Spoon into moulds and freeze until it reaches your desired consistency.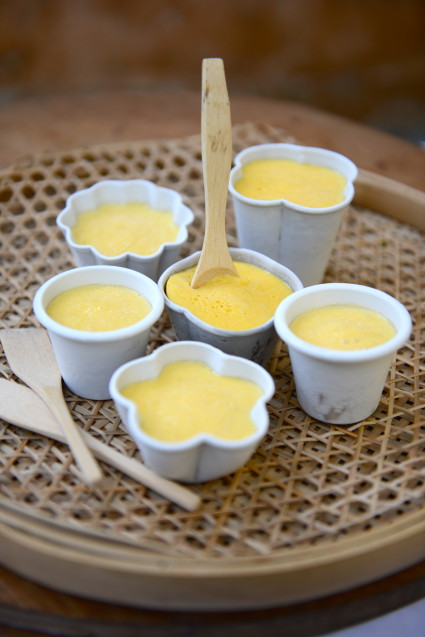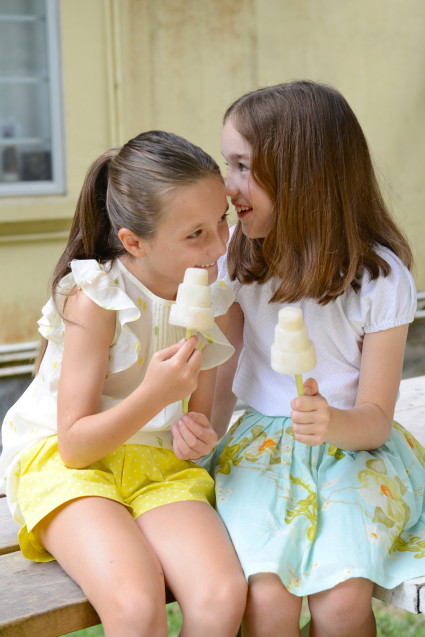 Mango Ice Cream
Ingredients
250ml condensed milk
200ml coconut milk
1 large mango chopped
Method
Combine ingredients in a blender and mix until smooth and thick.
Pour into moulds or tin of your choice. Freeze overnight.