The second annual group exhibition from KPC Yarn in Sydney explores the relationship between thread as medium and colour as feeling, shape, movement and light, and brings together an eclectic mix of work from around the globe. All of the pieces have been originally produced for the exhibition, and the artists chosen are all practitioners who consistently challenge the preconceived notions of textiles as homespun and tame. While many responses are whimsical, all push the boundaries of the form and the result is often surprising and idiosyncratic, both in substance and design. KPC Yarn is proud to be able to showcase a vast range of techniques and materials being embraced by 17 established and emerging names working in the textile world today.
Contributing artists include, Liz Payne, Nora Gres, Jacqui Fink, Katika, Vanessa Barragaó, Meredith Gaston, Kate Jenkins, Judith Macrae, Niki McDonald, Teresa Lim, Azumi Sakata, Lisa Tilse, Pauline Keneally and Lauren Hernandez and Kassandra Hernandez.
Saturday, May 20, 2017 3:30pm – 5:30pm sees the launch of the exhibition with a discussion about the healing power of making in our daily lives between Jacqui Fink, Meredith Gaston, Julie Gibbs and Indira Naidoo. A $15 entrance fee will be charged and one hundred percent of it will go to The Indigenous Literacy Foundation and tickets for the talk can be bought here.
Following this at 5:30pm – 7:30pm will be the official opening exhibition opening night celebration. Entrance to the party is free of charge.
A structured program of textile workshops and a series of drop-in classes each day are planned, which means the space will be constantly evolving with the goal of creating a supportive environment for communicating and bringing together like-minded creatives. For more information visit HERE
We look forward to seeing you there!
Ingrid Keneally
Creative Coordinator
WORKSHOP SCHEDULE:
All classes focus on craft technique and accommodate skill levels from a total beginner to advanced artist. Our workshops are designed to be fun and encouraging and all our instructors are practising artists working in their chosen fields. Small group sizes ensure individual guidance and allow plenty of time for attendants to ask questions. Age range: 13 years and over.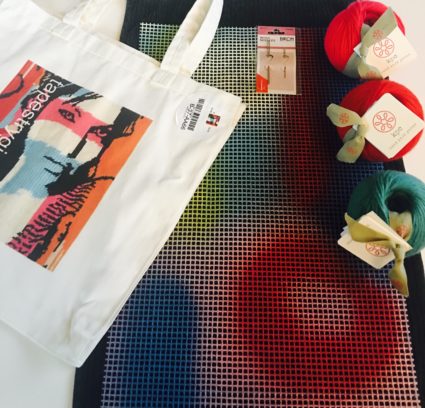 1. Tapestry – The Art of Contemporary Needlepoint with Niki McDonald
In this three-hour workshop you will explore the traditional half-cross stitch used in needlepoint. Project will involve sewing onto an urban-inspired hand-painted tapestry canvas. You will learn the basics of stenciling, and various layering and texturing techniques. There will also be an opportunity to work with the single and double-cross stitch. For bookings go HERE.
Cost: $110. Tuition fee includes canvas and tools.
Dates: May 20, 2017 – 10:30am – 1:30pm and May 25, 2017 – 6pm – 9pm
Venue: 14 William Street, Paddington, Sydney
Light refreshments provided.
About Niki McDonald
Sydney-based artist Niki McDonald graduated from University of Wollongong with a Bachelor of Creative Arts degree majoring in Textiles. She works across a broad range of techniques encompassing textiles, tapestry, painting, printmaking and photography in her compositions. She uses these skills in ironic ways to challenge the traditional conventions of needlepoint and to generate urban and contemporary perspectives that reflect the visual edginess of graffiti, tagging and bill posters. Niki has participated in many solo and group exhibitions and her work is hanging in private collections all over the world. Recent prizes include Waverley Art Prize, Winner of Mixed Media in 2014.
2. How to Dye Fabric Naturally with Cath Derksema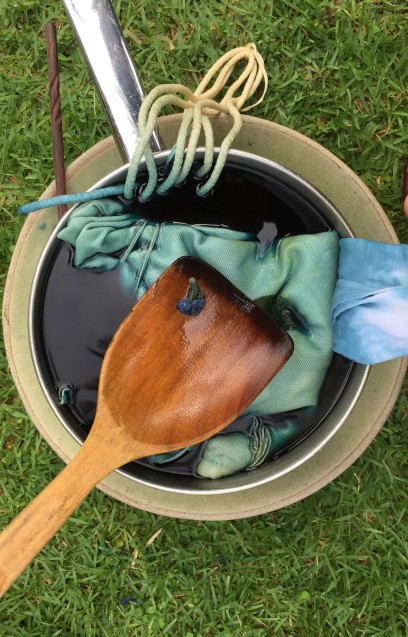 This class will focus on teaching you the fundamentals of sourcing natural dyeing properties and exploring important techniques used in making memorable colours. Projects w
ill range from working with organic cotton, wool skeins, and spices, plants, and other natural ingredients. For bookings, please visit here.

Cost: $140. Tuition fee includes fabric, KPC yarns, and all dyeing materials. Cath recommends wearing old clothes because the process can get a 'little messy'.


Date: May 27, 2017 – 2pm – 5pm
Venue: The Happenstore, 55 Parramatta Road, Annandale
About Cath Derksema
Textile designer Cath Derksema has developed her craft in the textile industry over many years. In the eighties she designed for John Kaldor before moving on to start her own interiors label Art Park; in the 2000s, she founded Prints Charming Original Fabrics with Kirsten Junor. Most recently Cath has established The Happenstore in Annandale, a multifaceted space designed to showcase exciting new creative product and for bringing together makers and like-minded individuals to practice, learn and dream up ideas. As well as facilitating workshops at the space Cath also shares her process through Indigo Shibori and Creative Stitching workshops. Cath combines her career as an artist with commissions and bespoke fabric and artisan projects. She is a widely respected artist and her work has been featured in the pages of numerous magazines both nationally and internationally.
3. An Introduction to Knitting with Gillian Bailey
Have you always wanted to have the skills to start off a knitting project but can't quite get it right? This class will simplify the steps of casting on and casting off – without the stress. Each student will learn to correct their own mistakes, and more, in a supportive and intimidation-free environment – all with the commencement of an individually designed scarf. For bookings, please go HERE.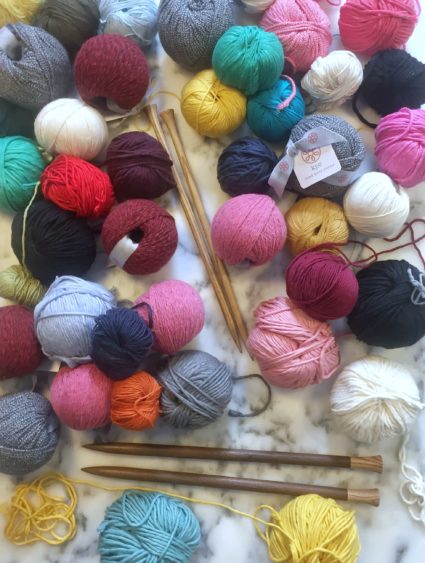 Cost: $15. Tuition fee includes knitting needles and wool.
Date: May 21, 2017 – 10:30am – Noon and May 28, 2017 – 10am – 11:30am
Venue: 14 William Street, Paddington, Sydney
About Gillian Bailey
Former fashion 'it' girl Gillian Bailey loves the serenity found in her knitting practice, and has taken her passion to the next level by sharing through teaching the lovely styles, tricks and techniques that are helpful in her own making.
4. Dream big – Extreme Knitting with Jacqui Fink
All-levels class. Students will immerse themselves in the wonderful world of knitting in an oversized scale. With the use of the K1S1 merino yarn Jacqui Fink has established as part of her personal range, this class will focus on teaching you the basics of the knitting-without-needles process including casting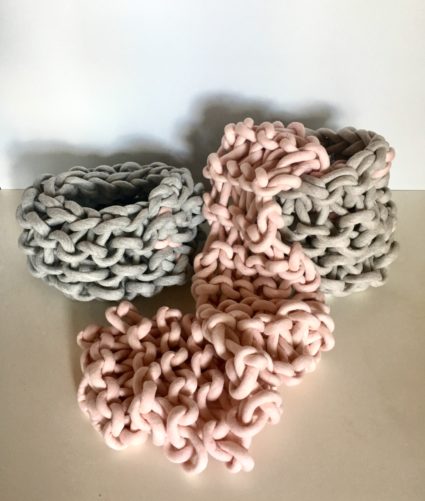 on and casting off, getting the tension right, and various helpful postural techniques. Projects may include super scarves, in garter or stockinette stitch, and unique soft vessels to display in your home. For bookings, please visit HERE.

Cost: $195. Class tuition fee includes a selection of K1S1 wool which will be available in a selection of colours on the day.
Dates: May 21, 2017 – 2pm – 5pm and May 27, 2017 Time: 10am – Noon
Venue: 14 William Street, Paddington, Sydney
About Jacqui Fink
Jacqui Fink's love of textiles developed as a healing journey through a difficult time in her life and developed into the artist she is today. She has exhibited in high-profile galleries, and her installations and wall-hangings have come to be highly sought after by private and commercial enterprises in Australia and overseas. She shares her time between her own studio practice and teaching and has taught the distinctive style and method of her 'extreme knitting' for the past eight years.
5. Denim Lover's Embroidery Class – everything you wanted to know about personalising your jeans but were too afraid to ask – with Liz Payne
In this two-hour workshop, students will receive artistic guidance from designer Liz Payne while customising their own denim pieces. Working through a selection of the instructor's repertoire of stitches, you will be encouraged to think strategically and explore your own ideas, inclinations, and visual instincts for theme, colour, and design. This is a terrific opportunity to work alongside an established designer specialising in this very popular technique. For bookings please go HERE.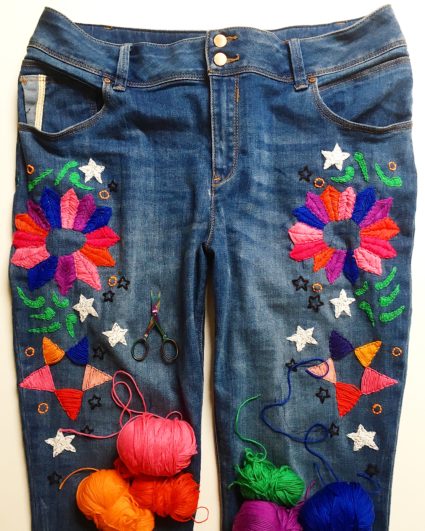 Cost: $150. Tuition fee includes KPC cotton, and other kitsch and crafty rhinestones, sequins, beads, and patches, too. BYO denim piece for customising.
Dates: May 24, 2017 – 6pm – 8pm and May 27, 2017 – 2pm – 4pm
Venue: 14 William Street, Paddington, Sydney
About Liz Payne
Liz Payne's meticulous practice uses an endless palette of materials and ranges from distinctive hand-embroidered and beaded artwork to dynamic wearables, such as necklaces and earrings. Recent exhibitions include fenton&fenton Peace of Art and Artist Open House, Fremantle. She has twice exhibited at The Other Art Fair, Sydney. Awards include 2015 winner in the Etsy Awards Australia and New Zealand in Art and Illustration and Paper Design, and in 2014 she was a finalist in the NSW Emerging Artist Craft Award. Recent collaborations include Gorman's autumn/winter 2017 collection. Her work is represented in private and retail collections in Australia and overseas.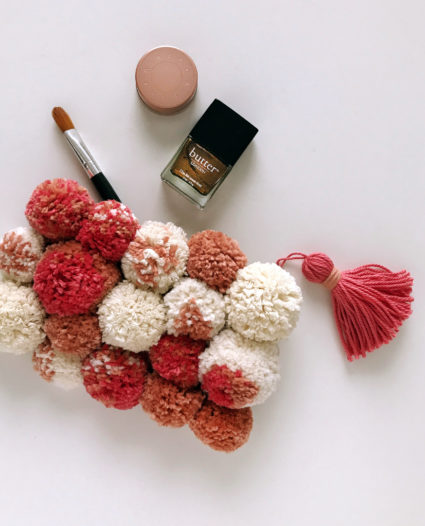 6. DIY Pom-pom Clutch: Tutorial with Lisa Tilse
Learn how to make pom-poms with Lisa Tilse. Your first project will be a completed clutch, and the finished product will be beautifully decorated and professionally constructed – one which you will be proud to use. This class is suited for experienced and beginner students. For bookings go here.
Cost: Tuition fee includes all tools and clutch plus a selection of KPC yarns.
Date: May 27, 2017
Time: 4:30pm – 6:30pm
Venue: 14 William Street, Paddington, Sydney, Australia
About Lisa Tilse
Lisa Tilse is a graphic designer, creative director, blogger, prop maker, stylist, teacher, and more. Her DIY influence and inspiration is reaching far and wide thanks to the success of her blog We Are Scout, an online platform for showcasing makers, designers and style and design trends around the globe as well as carefully curated DIY and craft tutorials that chart her own creative development. Lisa's DIY projects and content have been featured by some of the world's leading design sites and over 40 magazines. She loves to see artistic activity flourish and she has a generous eye for spotting talent in others. Notable mentions include one of domino magazine's 23 best design blogs of 2016.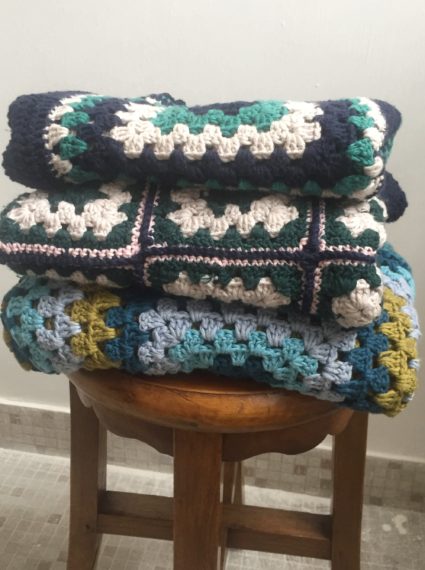 7. Drop-in Crochet Classes
Whether it's a little creative encouragement, assistance with technique, or a lesson in starting a project from scratch, our instructors will be on hand to share their expertise. One-on-one hour lessons available. For bookings go here.
Cost: $15. Crochet hook supplied.
Dates: Dates through May: 22, 23, 24, 25, 26, 27
Times: 10am, 11am, 3pm, 4pm
Image Credit: Liz Payne, Lisa Tilse, Jacqui Fink