Nothing says love like a home-made pie but not all of us have the luxury of time to bake for our friends and family. Luckily Tai Tai Pies Pies has come to the rescue and made pies so delicious everyone will think it's fresh from your oven. Chef and pie specialist RJ Asher has put his heart and soul into this artisanal pie baking business. Everything, right down to the pastry, crumble, and fillings – all imported meats, proves that RJ lives and breathes his specialist business. Fresh and wholesome – their apple pie is a definite favourite.
When it came to planning the styling for the photographs we took our inspiration from the natural flavours and spices RJ uses in his culinary creations. I used turmeric and tea together, which turned the linen napkins to a beautiful soft yellow hue. For all my spices (a whole other story we will get onto another time) I always go to this tiny little shop in Wan Chai.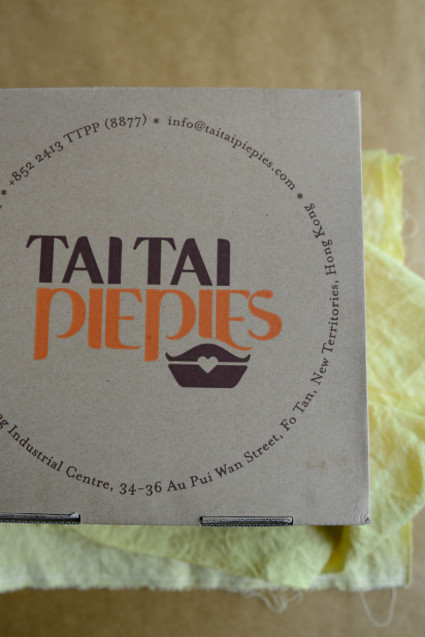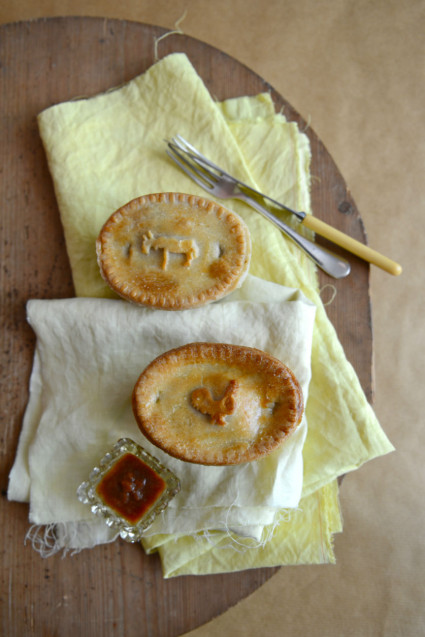 Some of the things you might do in a day?
Well, there are not some there are many things I do in a day. I usually start my day opening
Great
with my lead sales person, but sometimes I make a delivery or two before that. I then make other deliveries after opening Great and after that head to the Bakery. When I get to the Bakery I do paperwork which consists of responding to orders, filing sales reports and analyzing the business just amongst a few items. I also meet with potential wholesale customers and suppliers.
Describe your style?
Our motto "From Our Heart To Your Home" stands for a lot and is true. I really do put my heart into everything I do and every pie I create. So, my style, well I guess is insanely passionate about what I do in all aspects of my life, and I love to live life and eat pies.
Can you name three of your best traits?
Caring, passionate and giving.
Who or what inspires you?
My mother and father do. I respect them so much. They raised me to believe in what I am doing and to work hard for what I get. I give 110 per cent in everything I do. I am not a quitter and don't take no for an answer, there is a solution, you just need to figure out how to do it and then do it.
Which achievement are you most proud of?
That is easy. Tai Tai Pie Pies. The bakery was built December 2011 and by December 2013 we will be profitable and growing. Our goals are to open more shops in early 2014. The other of course is my wife of 18 years this October.
What is your all time favorite place to visit?
Italy, I love the food, wine and scenery.
What are you currently reading?
About 10 books I have started and have not finished. I am going much speed with Tai Tai Pie Pies that I cannot stay focused on one book. I wish I could but I have stopped buying them just because of that. When I was in the corporate world all I read were business books now I find myself really just reading recipes to get inspired to make a new pie. I like to do things a little different when I can like our Three Cup Chicken Pie which is a Taiwanese dish that we put into a pie with quite a few twists.
What are you listening to?
Whatever is on in the bakery as the bakers pick the music. In my car I have some of my generation music. Billy Joel, Bruce Springsteen, Cher, Rod Stewart and Bob Marley, what a combination.
One of the meals you love most?
Per Se New Year's Eve White Truffle dinner 2005/6. I still rate Per Se as one of my favorite places to dine. I only wish I was still going there as often as we used to. Every meal they prepared was exciting and I never saw a menu until the night was over. Now that is how I like to eat. Chef, surprise me.
Your favourite stores?
It used to be a small men's boutique in New Jersey where I bought my suits but now it is any baking shop or catalogue. I used to be a huge shopper as my closet would tell you but now that I spend my days in chefs clothing I never shop anymore. In our home in the USA, I had the walk in closet just like my father did. Now, my closet is more of a storage than anything else.
Any pets?
Tough topic, our love of our life passed away last September. She was the ultimate pie pup and her very own orange shirt stated. We miss her like crazy. We hope to adopt two Yorkies soon.
How can people find Tai Tai Pie Pies?
Easy, online at www.taitaipiepies.com or at our counter at Great Food Hall in Pacific Place mall in Admiralty.