We love warm-natured Cat Preston of Catherine Preston Jewellery Design. And her striking hand-made pieces inlaid with colourful semiprecious stones are within reach – think elegant, perfect for every day jewels in silver and gold that can go into edgy evening parties and big events. The designer settled in Hong Kong 18 months ago after 10 years in Singapore and a two-year stint in Chicago. Cat is also masterful at giving old pieces new shape (she meticulously re-worked a pair of antique garnet and enamel clip-ons, which Belinda's grandmother had brought back from India in the 1940s), into wearable pierced ones.
DONT MISS OUT: Looking for something special for Valentine's Day? Then be one of the first 10 stylebrief readers to tell Cat you saw her interview here and she will take 15 percent off the price of a piece in the collection at her atelier on The Peak.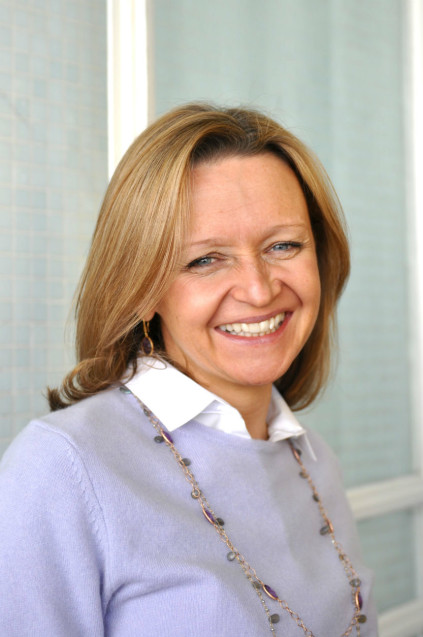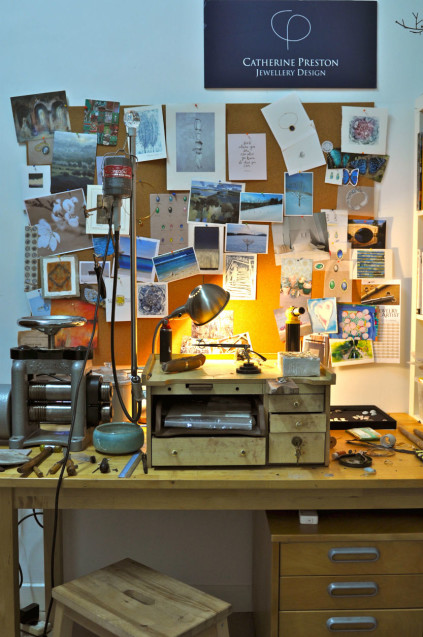 Why did you start Catherine Preston Jewellery Design?
I have always been interested in jewellery and coloured gem stones in particular. I decided to do a short course in how to render jewelry designs about five years ago so I could pursue it more as a hobby. I love the idea of giving a new lease of life to old stones in jewelry that often sits at the bottom of people's jewelry boxes, unworn – pieces that have been passed on down the generations or are simply outdated and therefore never worn. However, one course led to another and once I started doing some silver-smithing, I was totally hooked. I feel very fotunate that I am now able to earn a living doing something I love.
Some of the things you might do in a day?
I work from home where I have set up a jeweller's bench in a studio and an office. As I do everything myself no two days are ever the same. I could be drafting drawings for a bespoke piece or commission, or getting ideas together for the new collection. Making something by hand in silver at the bench or photographing pieces for the website. I also sell directly both from the studio and at fairs so I may have a client coming to view pieces in the studio or spend the whole day standing behind a stall. As with any business there is also a lot of admin associated with it so some days are spent sorting out the accounts, making inventory lists and filing.
Describe your style?
Classic, elegant, clean, simple lines – less is more.
Can you name three of your best traits?
I'm very positive, creative and enthusiastic.
Who or what inspires you?
I am inspired by most children's capacity to be creative, use their imaginations and find fun – sometimes as adults we could do with tapping into that side of ourselves more often.
What achievements are you most proud of?
Building a business from scratch – it still has ways to go, but pursuing that goal and vision is what drives me at the moment.
What is your all-time favourite place to visit?
Copenhagen on a sunny day. Great Danish design and aesthetic, fabulous food and an almost traffic-free city centre.
What are you currently reading?
May We Be Forgiven by A.M.Homes
One of the meals you love?
Any meal which involves good food, good company and a glass of wine. If it happens to involve tomatoes in any form, all the better for it.
Your favourite store?
ILLUM in Copenhagen is a great emporium but a real luxury is to spend an hour in any good bookstore just browsing, especially if they have some good books on jewellery – Eslite in Causeway Bay is my favourite one in Hong Kong.
What is your best-selling piece or pieces?
One of the best-selling stones in my collection is chalcedony which comes in a range of soft hues from lavender to sea green. It's a very versatile semi-precious stone that looks good against most skin tones and has a very contemporary feel to it.
How do people find your jewellery and will you do bespoke pieces?
I can be contacted directly via the website or (email) to make an appointment to visit the studio. I also have some of my collection at INSIDE in Repulse Bay and Princes Building in Hong Kong. Visit www.catherineprestondesign.com or email Cat Preston at sales@catpreston.com to find out more.