A new section on the home page celebrates the lives and careers of expatriates living in Asia. A series of interviews will detail the lifestyles and work of people living away from their homes who have become known for their style, from fashion designers and artists, to others founding successful businesses. The first interview is with Melbourne-born owner of Authentiques, Kate Davies. Kate has lived in Hong Kong for over 17 years – she came in the late-90s to work as a television reporter before moving into the finance sector – and even though she still consults, her main focus is planning and carefully considering the beautiful 18th and 19th century antiques she imports from the United Kingdom and Europe. There is an exquisite sofa upholstered in blue Italian velvet, circa 1910, at her atelier in Sheung Wan, Central which Stylebrief is currently coveting – the arms and back lift off, making it a perfect bed for a guest room. Read on at The Expats…
Where are you from originally?
Born and bred in Melbourne, Australia.
How long have you lived in Hong Kong?
Seventeen fast years, since 1997.
What were you doing that brought you to HK?
I was a TV news reporter with the Seven Network in Melbourne. I knew Melbourne like the back of my hand and wanted to spread my wings and live in another city. I flew home from a European holiday via Hong Kong and fell in love with Hong Kong's energy. I asked Seven if they could send me to Hong Kong to report on the Handover of Hong Kong in 1997 but they wouldn't commit and always sent men on the overseas stories so I thought it was best I didn't wait around to be rejected and miss out all together so I left and moved on my own to Hong Kong and started working with the Nine Network's bureau in Hong Kong, plus I called in to a radio station 3AW with updates of the imminent Handover and the changes that were taking place in preparation, like the red post office letter boxes with the Queen's emblem being replaced by plain Hong Kong ones, the "royal" being removed from the titles of clubs and associations, their signs were taken down and replaced. It was an amazing experience to see the Queen's Yacht Britannia set sail from Victoria Harbour with Prince Charles on board, collecting the Governor, Chris Patten and his wife and daughters. Thinking about it gives me the tingles. After that I switched in to public relations and then moved in-house to ABN Amro to run their events and marketing team.
Why Authentiques now?
In my thirteenth year in banking/equities the business I was with, Samsung Securities, was shut-down. Two years earlier my husband Steve died unexpectedly when our daughter was only ten months old. The abrupt end to my job gave me a chance to sit back and look at my life and reassess my options. The banking world was in a downward spiral, people were working harder for less reward and I wanted to see if I could step back from it and find another business that allowed me to travel less, see my daughter daily and have the flexibility to juggle my responsibilities better. I noticed that there were no European antiques available in Hong Kong and was reading that the Chinese in China had an increasing interest in them. I grew up with parents who bought antiques and mixed them well with contemporary art and furniture and felt comfortable with my level of knowledge, enough to look in to it as a commercial business idea. I opened the doors in July 2013.
What were the challenges?
There were plenty. I had never run a small business before so I have had to surround myself with very good advisors. I have a business coach who firstly was given the task of keeping me from taking tempting roles in other banks. Giving up a salary was hard, I had become very institutionalized so every time I put my hand in my pocket, I think more than twice. My priorities changed, we go without certain luxuries but I have gained the luxury of freedom to explore on so many levels. Staying positive was another challenge in the first year and my coach has helped me there too, showing me that I am fulfilling my objectives which are very different to those of many of my friends and competitors. I bought in to a block of time that is a highly formative period of my daughter's life (she is now five) so as well as building a business, I am also supporting her growth and trying to be the best role model I can as a single mother and that's a constant work in progress. I have an investor as well who I have worked with for ten years. She is very supportive so I can bounce ideas around and know that the advice is sound and sensible.
What was one piece of advice someone gave you that really inspired you to open Authentiques?
Choose something that is scalable without adding much to your cost centre. Selling more furniture doesn't mean we need to add more staff, it requires better systems, suppliers and organization but not salaries and the HR issues that staff bring. In comparison, opening a restaurant or setting up a consulting company on the other hand requires a team of staff and if that business grows bigger, more staff must be hired, and if the business gets smaller or goes through quiet patches, those staff still need to be paid or let go. I didn't want to rely on an in-house team. I like shopping around for the best supplier at the time within my budget whether it be the buyers sourcing pieces for the business in Europe or the web designer. There is a lot of freedom in the business model to change as we learn more about the market.
What has been the highlight since opening Authentiques?
Buying the furniture in England and Belgium was a rush. Going from dealer to dealer, learning so much more and being surrounded by shedloads of the most beautiful furniture I have ever seen was like a dream. I met wonderful people who have vast knowledge to pass on to future generations. Antique furniture is very practical. Every piece had a purpose so there are wonderful stories and visuals surrounding each piece. The entire experience has reactivated a creative spirit in me and I get a lot of personal reward from that regularly. Essentially we are all creative but often we repress the need to express ourselves. Facebook and Instagram are two amazing examples of how creative the world is. Everyday people posting phenomenal pictures and observations. We are learning so much more about our friends and other people by what they notice and post.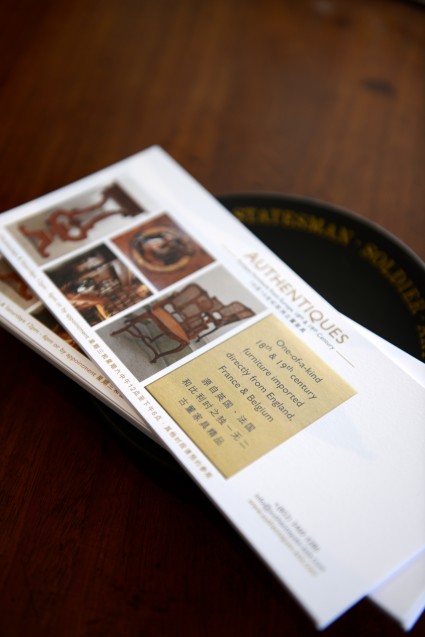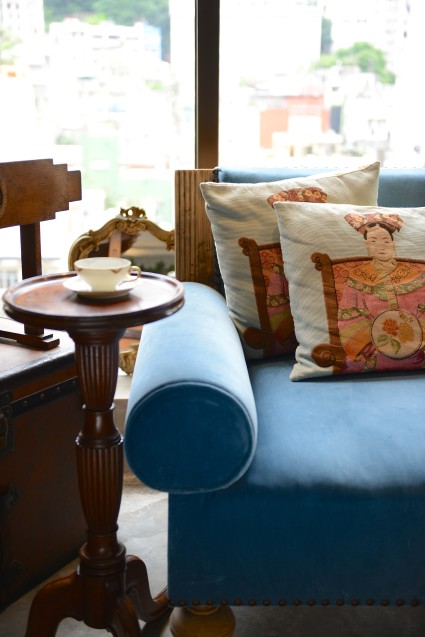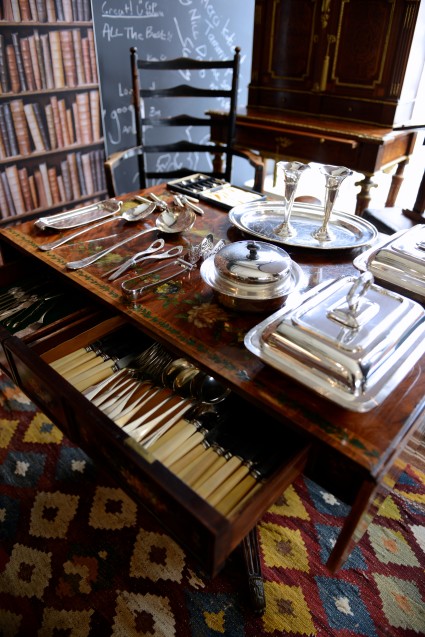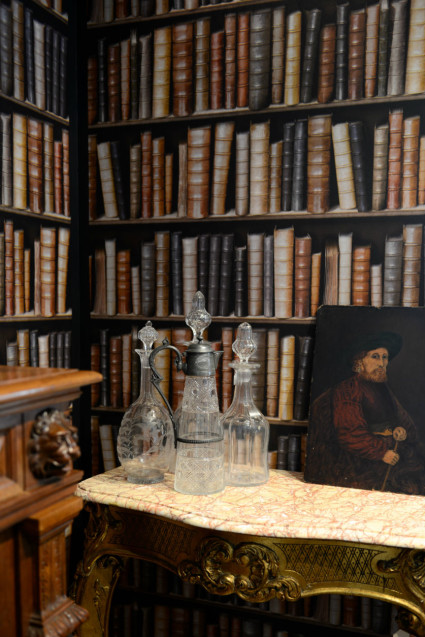 What has been one of the hardest parts since opening Authentiques?
Staying true to my goals. Staying focused and fighting the urge to build Rome in a day. As other small business owners well know, you can sit up all night thinking about the business, reading, contacting people. On average I go to sleep at 2 am and it's often later but that is a huge problem I have to change otherwise I'll age faster and will burn out. Self discipline!
If you were to give someone advice on setting up a business in Hong Kong what would you say?
Never underestimate the power of social media. It's here to stay and we have to get onboard and stay current.
What piece of furniture from Authentiques should people be buying now and why?
A decent dining table. Hong Kong doesn't have old tables that bring so much character and charm to your home. They are the centre of the family home, where meals are eaten, homework and drawing is often done on them, family decisions are made at them and entertaining is done around them. A lot of time is spent at the dining table so it's important to have one you like… a two seater, four, six, eight, ten, twelve, even larger in oak, cherry, walnut, mahogany. The French farmhouse tables are fabulous solid ones, often they were once kitchen work tables or refectory tables used for communal meals in schools or church halls. I am a big believer in mixing eras and styles so I like to put modern chairs around an old table, or antique chairs around a contemporary table which creates your own unique style. It's easy to buy brand new furniture but buying an antique brings history and mystery in to your home plus it's environmentally friendly in that it's a form of recycling.
Why do you love Hong Kong?
Where else in the world can you get so much done in one day. This city is oozing positive can-do attitude and for an extra dollar (or not) someone will add an extra level to their service… home deliveries, office deliveries, restaurants do take-home "doggy bags", you can get just about anything made here, there is always something new to discover up a grungy alley or cargo lift, it's safe for children, education is excellent, school buses are often door to door, medical services are accessible and fast, people who move here are all risk takers and most locals on the street love children and are usually kind to expats. It's compact, the mountainous harbour city is full of engineering and architectural feats, and yet you can be on an empty beach within 30 minutes' drive from central, surrounded by mountains, with boats and stunning islands in the distance. It pushes all my good buttons. Shall I go on….
You have 24 hours in Hong Kong what would you suggest for someone to do?
Assuming it's a first trip to HK ever…
7.30am… catch an express bus from Central to the south side of the island to Stanley, sit upper deck, enjoy seeing the beaches along the way and have breakfast at Stan Café in Stanley Plaza to enjoy a sea view. If you have time walk along the shore to Stanley Market for some shopping.
10.30am… Bus back to Central and take a quick stroll along Queen's Road and up Pottinger Street to Hollywood Road.
11.30am… Wander along Hollywood Road pas the galleries heading towards Sheung Wan. Stop at the " PMQ" for a look at the just-renovated former "Police Married Quarters" which houses 100 plus Hong Kong designers' stores and workshops with everything from jewelry, clothing, furniture and food.
12.30pm… Back on to Hollywood Road, drop in to the Man Mo Temple and then opposite, drop down to Upper Lascar Row to the Cat Street market, a pedestrianised lane, and wander the outdoor bric a brac and HK curios.
1pm… in Upper Lascar Row have lunch in Man Mo Café which is a French Cantonese fusion restaurant and gallery, think brie cheese and truffle dumplings, (Authentiques is a one minute walk from here, see map on website. Kate didn't mention this but now is the time to drop into her atelier and grab some of her hand-dyed linens or a pair of French caned walnut armchairs) or if you prefer cheap and cheerful Cantonese street eating, prop at the outdoor restaurant on the corner of Hollywood Road and Elgin Street, closer to Central.
3pm… catch a taxi to Bowen Road, get dropped off at Borrett Road intersection and walk (or run) off lunch along Bowen Road, taking in amazing harbour views and surrounded by lush tropical trees. You'll start in Central and it ends at the Happy Valley end. An alternative would be to have the taxi driver drop you at Happy Valley race track and walk in the the centre via the under ground tunnel and walk around the race track, alongside the racing track taking in the buildings around it, the stadium and the football fields and club in the centre. Quite a unique scene.
4.30pm… taxi back to Central Pier to catch the Star Ferry to TST/Kowloon side back to your hotel to freshen up (if you are staying on the Island then back to your hotel and then Star Ferry to dinner later).
7pm… On Kowloon side, walk through the "Hullett House" Marine Police quarters re-development and have one pre-dinner drink at the bar in The Parlour.
8pm… walk to dinner at the Aqua Group's Hutong restaurant. Knock-out views (from the 28/F, 1 Peking Road) of the harbour and HK Island at night and delicious spicy Northern Chinese cuisine. Book early to secure a front row table at the window or a corner semi-private room for a bigger group.
10pm… If you still have room for a nightcap walk to the foyer bar at the Intercontinental Hotel which is at sea level with massive floor to ceiling windows facing the island. You'll feel like you are on a ship passing through the harbour and can sail in to bed soon after.
Hotels: For the best view of HK Island stay Kowloon side, at the Hong Kong Hotel (Marco Polo) or Intercontinental requesting Harbour View rooms, or the Peninsula for high-end. If you stay on the Island choose Upper House, Shangri-la or Four Seasons, or all manner of fun boutique hotels…. the harbour view is less exciting on the island looking across to Kowloon but some rooms have great "in the heart of it" city views and "in your face" mountain views so you can understand what it's like to live on HK Island or work in a Central building.
How do people find Authentiques?
www.authentiques-asia.com There's a map to help you find us at 1006, 10/F Hau Qin International Building, 340 Queen's Road Central, Sheung Wan Tel. +852 3460 4286, open Wednesdays and Saturdays from 12noon – 6pm, or call to make an appointment.