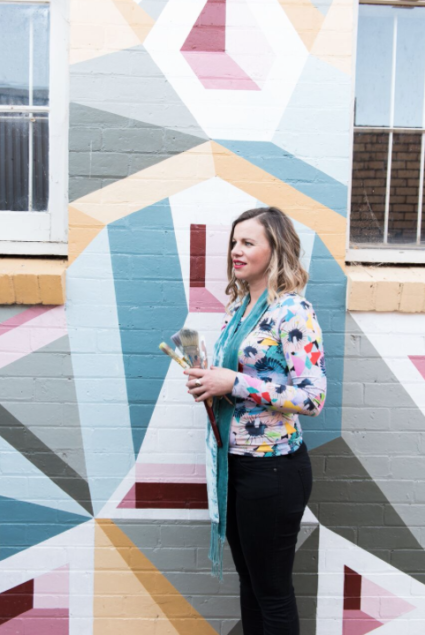 In March 2017 we are hosting a hands-on class taught by one of Australia's emerging artists. Learn the basic painting technique used for Jasmine Mansbridge's 'Three Point Portal' (triangle) installations to create your own work on balsa wood.
To coincide with Hong Kong Art Basel, and while she will be contributing her unique touch for a mural at eicó paints throughout the fair, Australian artist Jasmine Mansbridge is coming to Mirth to take some classes for those beginner or experienced painters interested in expanding their skills.
This two-hour class will be used as a pivot point for a discussion on dimension, and you will learn all the colour-mixing tricks you will need. Reservation required. Register here. Pieces from the workshop can be kept and taken home on the day. Participants must be 12 years and older. All materials supplied.
For more information on Jasmine's work, or if you would like to order a copy of her book, There is a Paintbrush in my Coffee, in the lead-up to the class, please visit jasminemansbridge.com. Jasmine will next be exhibiting at Sydney's Koskela in early March 2017. The artist will also be participating in an intimate talk about practicing her art at her home where she lives with her husband and five children.
Juggling Art Practice and Family Life – in conversation with Jasmine Mansbridge at eicó paints
Date – March 23 –
Time – TBC
Venue – eicó, Evergreen Industrial Mansion 2B, 12 Yip Fat Street, Wong Chuk Hang, Hong Kong. Tel: 5367 6716
Workshop Details at Mirth
Date – March 23 – 10am – noon ( Participants must be 12 years and older)
March 25 – 1pm – 3pm ( Participants must be 12 years and older)
March 25 – Children's class 3:30pm – 4:30pm ( Under 12 years ) –
Venue – Mirth, The Mezzanine Floor, Yip Kan Street, Wong Chuk Hang, Hong Kong. Tel: 2553 9811
For bookings and enquires go to stylebrief.bigcartel.com