I love weaving and macramé – I'm into eccentric style-driven pieces that take a slash of inspiration from the patterns of the seventies and are turned into an artfully crafted object or original, wearable item. I've always liked the work of talented Australian multitasker Natalie Miller – fibre artist, weaver, architect and interior designer – and the great news is I have arranged for Natalie to come to Hong Kong and teach new and wonderful things to a small group in a limited number of classes in May 2015. KPC Yarn is collaborating with their beautiful wools and cotton yarns in many colour variations, and classes will take place at the Mirth lifestyle store in Aberdeen. If you want to pick up extra wool or cotton after the class Mirth now stocks a large range of KPC Yarn – including some of my favourite colours. Places are booking fast so visit stylebrief.bigcartel to secure your place.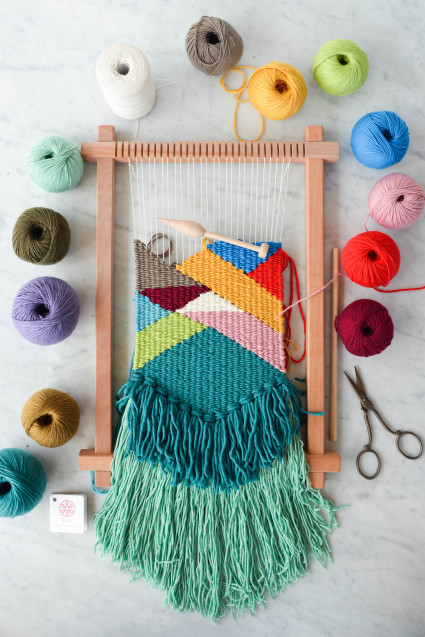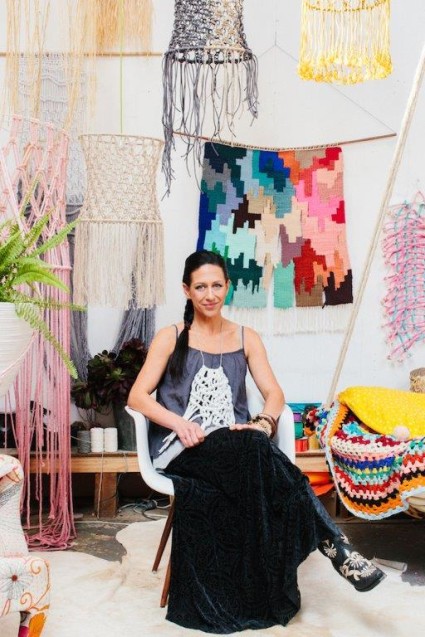 Natalie Miller is a fibre artist and weaver. For over 20 years she has been a registered architect and interior designer and she loves exploring the different techniques involved in working with textiles. Natalie studied tapestry weaving at Sturt Art and Craft Centre, Mittagong, and she spends as much time as she can in her idyllic home studio located in the stunning Southern Highlands in New South Wales, Australia, creating her beautiful tapestry weavings and macramé pieces.
For more details on both workshops read on below: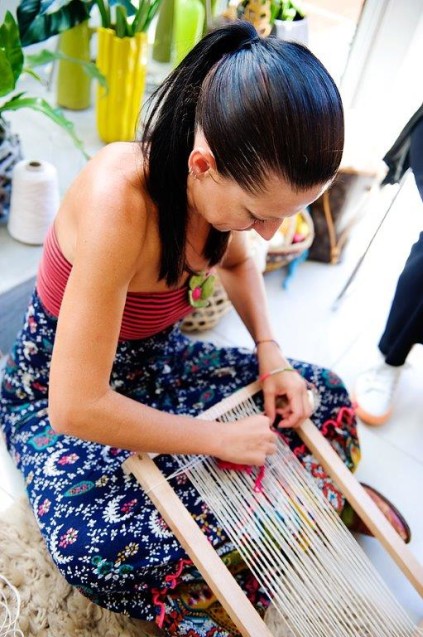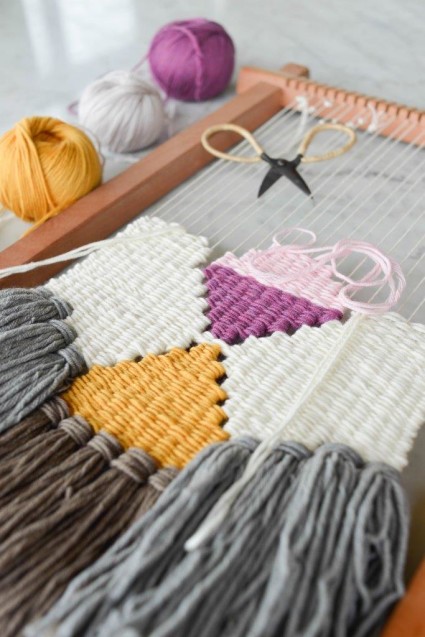 Weaving workshop:
Date: 15th May 2015
Time: 10 am – 4 pm
Where: Mirth
The Mezzanine Floor
Yip Kan Street
Wong Chuk Hang
Hong Kong
Tel: 2553 9811
Number of seats: 14 only ( 9 places left)
What is included:
Enjoy six hours of absolute fun creating and engaging in the many facets of weaving. Natalie will teach you how to warp the delicious wools and cotton yarn from KPC Yarn, roving and raffia onto a timber loom as well as showing you different tapestry weaving techniques.
Natalie will start by exploring the essence of colour, form and texture. You will then be guided through all the steps needed to weave your very own wall hanging – from design through execution and finishing. To let you continue to enjoy your newfound skills you will take home an Ashford timber weaving loom and Amber bobbin along with your very own woven tapestry
Southside Ovolo will be supplying a lovely lunch and a selection of healthy snacks from Moxo Living and refreshments will be available throughout the day. If you want to join us at the end of the class for a complementary (and optional) glass of champagne, while we stand back and take in all the vibrancy of your finished work, that would be great!
Macrame workshops:
Natalie is conducting this three-hour class, which will cover the mechanics of knotting and macramé. You will be taken through all the steps on how to make your very own woven hanging pot plant holder as well as being shown how to manage any future grand-scale ambitions you may come up with.
Rope, glass vase and plant included. A selection of healthy snacks and drinks will be provided.
Date: 16th May 2015
Time: 10 am -1 pm
Where: Mirth
The Mezzanine Floor
Yip Kan Street
Wong Chuk Hang
Hong Kong
Tel: 2553 9811
Number of seats: 10 places ( 8 places left)
What is included: Three hours of absolute knotting rope fun, creating your very own macramé pot-plant holder. All rope, glass vase and plant are included. Yummy healthy snacks and drinks will be supplied.
Cancellation Policy:
No refunds will be available for cancellation within one week of the workshop. Please take this into account when you sign up for a workshop.
No refunds of any type will be offered for workshops with out-of-town artists.
Words: Ingrid Keneally
Photo credit: Natalie Miller, The Design Files and Bec Taylor